Welcome to Malukka.com
Malukka is a newly started family company seated in Denmark, but with roots in several nationalities.
At Malukka it is both our passion and vision, to be able to present aesthetic and creative quality products, produced entirely in Turkey, and created with inspiration from the colorful cultures of the country, its history and longstanding traditions in design and crafts.
We have had a close relationship with Turkey for many years, both through family and through multiple stays around the country. As a result of this, we have established good and close connections and contacts with selected artists, workshops and manufacturers, in design of artworks, crafts and textiles. In choosing our products and business partners, we focus on creativity and quality, as well as an open and innovative approach – to both production, process and cooperation.
Our products
All our products are 100% designed and produced in Turkey and reflect both originality, authenticity, and the exciting and unique design, that stems from a mixing of styles, cultures and traditions.
Because of this, here at Malukka, you will find carefully handpicked items in categories, like lifestyle, shoes, ceramics and apparel, that all represent authentic Turkish design.
Many of our products are handmade and one of a kind items, made with inspiration from the colorful culture of the country, and reflecting the many people that lives, or has lived there, but in a new and innovative style, based on modern trends and techniques – with a focus on both quality and detail.
We are working with a climate friendly and sustainable focus. As overproduction and waste constitute a huge environmentally problem, we have decided only to have a few items in stock, ordering our products on demand only. In this way we can all contribute making a greener tomorrow. Hence, the delivery time can vary.
Clothes
Delivery time – 2 to 10 working days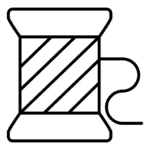 Organic Home Textile
Delivery time – 2 to 10 working days
Shoes
Delivery time – 2 to 14 working days
Ceramic
Delivery time – 2 to 23working days
.
The story behind
The historic influence is seen all over Turkey. In the architecture, the art, the crafts, design and clothing, motifs, colors – and in the many richly ornamented mosaics and decorations – that adorn buildings, palaces, public squares and parks, even in the hectic and noisy big cities.
We believe that the story behind is an important element. A small, but essential breath of history, that adds life, soul, understanding and togetherness – across time, location and culture. Thus, the joy of the historical perspective, is an ongoing theme of our online shop and we have made space for this dimension, in both concept, layout and web design.
Hence, the small tulip in our logo has been chosen, because the tulip originates from Turkey and now is the national flower of Turkey.
We have also named our products after historical and mythical figures from some of the many civilizations, that hails from the country. Even the name Malukka, is inspired by the part of Turkey that was known, in antiquity, as "Lukkalands" Though this place is veiled in tales and myths, it is believed that "Lukkalands" consisted of many different multiethnic groups and that there existed equality of gender in their culture.
The Turkish history of plurality, of very different kinds of civilizations have, each in their own way, been part of shaping the country. Mixed with the trends and technology of modern society, it creates a wholly unique diversity of color, aesthetics, innovation and originality.
Diversity, plurality and bodypositivity
It is our vision for Malukka to be able to embrace plurality and diversity. We have chosen to focus on this, both in our choice of products, as well as in layout, design and pictures on the online shop. The team behind Malukka also consist of a colorful mix of different people, which helps us to embrace widely, and creates a foundation for new inputs, visions and experiences.
The unique expression, based on personality, creativity and the joy of an aesthetic design, is to us, independent of age, gender, size and ethnicity. Thus, body positivity and diversity are important and prioritized values behind the concept for Malukka.
Sustainability, the environment – and fair working terms
With our ambition of being able to present aesthetic quality products, with authenticity, originality and a historical touch, we naturally want to be part of securing future cultures and generations. Because of this, we have a great passion for sustainability, the climate – and fair working conditions for all our associates.
Overproduction and waste constitute a huge environmental problem. To avoid being a part of this problem, we have chosen to only order our products from manufacturers and artists, when we receive the orders from you, our customers. We ship orders 2-3 times a month, which means that you can expect about 23 work days, for orders to arrive. However, it is both worth the wait and at the same time it means, that we can all be a small part of protecting the environment and climate, in the future. With regard to our handmade, one-of-a-kind items, delivery times may vary, as most of our craftsmen have small independent workshops, with only a few employees. If delivery time should exceed 23 workdays we will, of course, notify you.
We prioritize finding and using environmentally friendly packaging, if at all possible. For products that needs to be packaged with extra care and cautiousness there is, at this time, a limited selection of environmentally friendly options, but we are always working to find new ways, to make both our products and packaging more environmentally friendly.
Artisans
In our choice of suppliers in Turkey, it has been important to us that they fulfill a list of criteria that we, in the Malukka team, value highly.
First and foremost, good quality, originality and a special focus on the creative and aesthetic design. Moreover, it is essential to us that there is room for innovation and openness, also to our suggestions, wishes and ideas. A good working relationship is, to us, based on transparency, trust and respect for the artistic process and the work involved in the manufacturing of our products, and – not the least – that all involved parties are recognized for their work.
Good working environments and fair work terms are therefore also key points for Malukka. With this in mind, we have chosen to present some of our suppliers on this site. Furthermore, our "one of a kind" ceramics are usually signed by the artist who created it, and in some cases, the Malukka logo has also been added.
Vision and Concept
An experience
Our primary mission in Malukka, comes from a wish of conveying an experience. One of continuity and connectedness between people, across time, cultures and nationalities. An experience that embraces and reflects the colorful and unique expression – of every individual.
An experience of, the joy of aesthetics and exciting craftsmanship, with motifs inspired by historical symbols, decorations and cultures, and the experience of receiving a product, in an original and authentically inspired design, with a true sense of detail.
We experience the world through all our senses, and one of the most important ones, is the sense of smell. In Turkey, it is common to use beautifully embroidered and elegant scent bags to mark special occasions, like weddings and formal events. The scent bags will often be placed at each seating, at the party, or even be enclosed with the invitation, usually with embroidered initials and the date of the party. These fragrant little statements hold a place of importance in Turkish culture. The bags are saved and used as decorations and aromatic potpourri in the home, usually in the bathroom or the bedroom.
At Malukka, we want to embrace this tradition and have therefore chosen to enclose a small scent bag, each time we send out a product. The bags are created in Turkey, in natural materials and contain natural, ecologically grown lavender, from the country.
We hope and wish, that our products, with their aesthetics, exciting creativity and colorful historical soul, will pamper all your senses, and allow you to highlight your very own personal style and unique identity.
Ceramic artisan
Sibel Görgülü Babacan
Sibel Görgülü Babacan is born and raised in the Iznik area of Turkey. It is also here she has taken her degree in ceramic art and craftmanship. For a number of years, Sibel has been working in the renowned Vakif Iznik Foundation. A foundation dedicated to the study of historic and cultural techniques behind the Iznik tiles and ceramics, and the importance of passing on this knowledge, to both current and future generations.
Through centuries the city of Iznik has been famous for their exquisite and unique designs in tiles and pottery. Especially in the 15 – 17th century, the ceramic workshops in Iznik were flourishing, as the Sultans of the Ottoman Empire, favored them as royal suppliers. Iznik tiles and ceramics were used for decorating the royal buildings and mosques, for tableware and as treasured gifts to foreign dignitaries. In time techniques and designs were unfortunately forgotten, until the 1960s, where archaeological excavations brought some of the old ceramic workshops back to life.
As a ceramic artist, in the Iznik Foundation, Sibel Babacan has been a part of the ceramic team decorating; the Istanbul Metrosystem, Sabiha Gökçen airport in Istanbul and the Ankara Castle, among many others.
Today, Sibel has her own workshop. Her focus, as an artist, is deeply grounded in finding new and innovative areas of use for the ceramic art and techniques, thus, mixing the modern and the traditional, in both shapes, styles and designs. Currently, Sibel Babacan is working with ceramics especially suited for table and kitchenware. In addition to be made with elegant accuracy and gorgeous colorful motifs, these ceramics are lead free, and hence suited for storing and serving food.
Shoemaker
Bilart
Handmade quality and an intriguing and innovative design, deeply rooted in ethnic folklore, history and culture, are the keywords describing "Bilart".
"Bilart" is a family company of brothers, that for 3 decades have been manufacturing shoes, with a special focus on good handiwork, exquisite and personal comfort and design. Originally, they have mainly specialized in classical designs, making shoes and boots of leather from delicate calfskin.
In recent years however, they have been adding an exciting new aspect to their collections – combining colors, textiles, embroideries and leather – in new and innovative designs and looks.
Their inspiration comes from "Suzani" textiles, which are hand embroidered carpets and fabrics made – for centuries – by nomadic tribes in Central Asia. The "Suzani" fabrics were originally made to be a part of a young girl's dowry and the vivid colorful embroideries are reflecting symbols, flora and fauna of the area. Read more
At Bilart´s these fascinating fabrics and textiles are now used in a creative and artistic mixture of tradition, modern trends and great quality, thus creating products – like shoes and bags – that oozes of originality and style. As all of the "Suzani" fabrics are hand embroidered, each product made by "Bilart" is unique, with its own individual appearance and expression.
Good quality and high standards are fundamentals, for the handwork of shoemaking at "Bilarts." Being open to adjustment and new ideas, they are also making products by personal measurements and fit.