Delivery time – 2 to 10 working days
Gorgeous ladies' bathrobes – in stylish exclusive designs & in green organic quality
Don't we all love to wrap us self in a soft and comfy bathrobe after a relaxing bath? Or maybe curl up in it, in the sofa for hours, on a peaceful Sunday morning. For most of us the bathrobe is a common and essential part of our daily lives and actually it has been like that for thousands of years. Indeed, in many different versions and designs – made from a wide variety of materials and textiles and used very differently, according to intent, social status, position and geographical location. But always popular and a true classic – in the most literal sense of the word.
And what might be the reason for this?  Well, maybe it is because the loose and airy garment is both wonderful comfy and relaxing to wear – covers all the right places – suits both men and women and can be made in a myriad of colors, patterns, designs and fabrics.
A little bit about the history of the bathrobe
It is possible to find descriptions of bathrobes going as far back to around 1000 BC, where both men and women in Greece and the Middle East wore the so-called chitons – robes made from linen, wool or muslin. The robes could be long or short and were usually in different colors and patterns depending on your wealth and rank. The decorations were also – like with the Turkish hamam towels – reflecting your home region.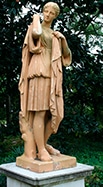 Usually, the robes were sleeveless and were hold together with a belt or a needle. In some areas and civilizations, the robes were considered a home or bath garment only – as they in others were used publicly and even for social and formal occasions and arrangements.
 Around the 9 century AD, the Japanese kimono became very popular, as it could embrace all sizes and be used by both sexes. The shape of the kimono made it easy to wrap around you and it could cover the entire body. As in Greece, the robes were designed according to purpose as well as reflecting your wealth and status. Some kimonos were only for home wear or for use in the public bathhouses. Others were made specifically for formal, public or social occasions.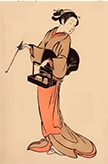 These kimonos were carefully decorated with handmade embroidery, patterns and motifs sewed onto expensive silk fabrics. Decorative and very exclusive kimonos were designed with elaborated and pricy accessories and specially made for important lifechanging events like childbirth – engagement and weddings. Events, that parents still today save up for to give to their children. Kimonos were even custom made for each season of the year. Thus, summer kimonos were for instance decorated with water motifs and winter kimonos with illustrations of bamboo and maple.
The Oriental style caftan has many of the same characteristics as the kimono and has likewise been used both as a home garment and as a mean to show power and position. The Ottoman Sultans in Turkey had luxurious caftans handmade for members of the royal court and other dignitaries – reflecting each person's position in the hierarchy. These caftans were extravagantly decorated with embroideries – and often with gold and silver threads.  Sometimes even jewels were sewed onto the caftan. But also the more common people adored the caftan, as it was both pleasant and airy to wear in the hot climate of the Middle East.
In the 12 – 13 century the robe also became popular in Europe. Often used as a formal garment especially in religious and academic circles. The inspiration from this era is still seen in the robes worn for graduation ceremonies and in certain countries, also for judges at the court of law.
From the 18 centuries onwards, robes were used as dressing gowns, with a design and style rested upon inspiration from the ancient chitons, caftans and kimonos. These robes were used both at home – on top of the pyjamas and outside – on top of the clothes, like a long coat. At first it was merely the men taking up this trend – and it even became fashionable for rich and powerful men, to be portrayed in their dressing gown. Later on, also the women came aboard, but mostly only the women from the wealthy classes.
Modern bathrobes
Today, not many people use their bathrobes or morning gowns outside the home. Maybe just for a trip to the beach or for a wellness stay perhaps. Modern bathrobes are designed to be water absorbent, soft and comfortable to wrap around you. The bathrobes still come in many different versions, designs, quality and fabrics – some simple and stylish – others more colorful with patterns and decorations – but most of them are just as pleasant and practical today – as they were 2 thousand years ago.
Our beautiful organic bathrobes are designed with the wish of combining functionality and aesthetics with a green emphasis. Textiles used near to the body should be toxin and chemical free – and it is indeed possible to make both colorful and creative designs in an organic and sustainable fashion. Several of our gorgeous ladies' bathrobes are made with lovely colorful handmade embroideries, in designs clearly inspired by the diverse Turkish culture and history. Our organic bathrobes are both GOTS and OEKO-TEX certified, meaning they are produced not only organic, but also sustainable and with strict requirements to social ethics and responsible working conditions. If you wish you can read more about GOTS and OEKO-TEX here…
"Heaven is under our feet as well as over our heads."
—Henry David Thoreau
Spoil yourself, with a wonderful bathrobe in an inspiring design and a healthy green quality.
Also take a look at our beautiful towel set and bedlinen – naturally in certified organic quality and in truly unique and exciting designs.