Zühre, suede boots with embroidery
Handmade long black suede boots with a stunning red lining – unique design
These truly special black suede boots are handmade in an intriguing and innovative design, decorated with beautiful embroideries in turquoise, red and green color nuances on both sides. The boots have a lace-up design and a zipper in the back, making them adjustable for individual measurements. Inside they are lined with goat skin in a hot red color matching the floral embroideries. The boots have a musketeer like appearance and a colorful unique expression that surely will catch the eye. It is great handmade quality in a creative and trendy style. Original design by Malukka/Mcat
As the black suede boots are handmade, each pair will be unique, with its own individual character. The boots can be ordered in standard sizes or be custom made, adjusted to your own personal measurements. It is also possible to choose from a wide range of colors, materials and even the size of the heel. You are always welcome to contact us for further information. Mail:  [email protected] or telephone. +4553537028
Zühre, lace-up suede boots with red lining
These magnificent black suede boots are handmade and decorated with beautiful floral embroideries on both sides. They are lined with stunning red colored leather, made from goatskin – and they have a 10 mm comfort insole, making them both comfortable and airy to wear. The boots have a full-length back zipper closure in a solid YKK zipper quality and durable rubber soles in a neolite material, which makes them well suited, also for a wet and cold climate. The neolite material has been specially treated to give the heel a rustic appearance. The heel is 2,5 cm.
Design and craftmanship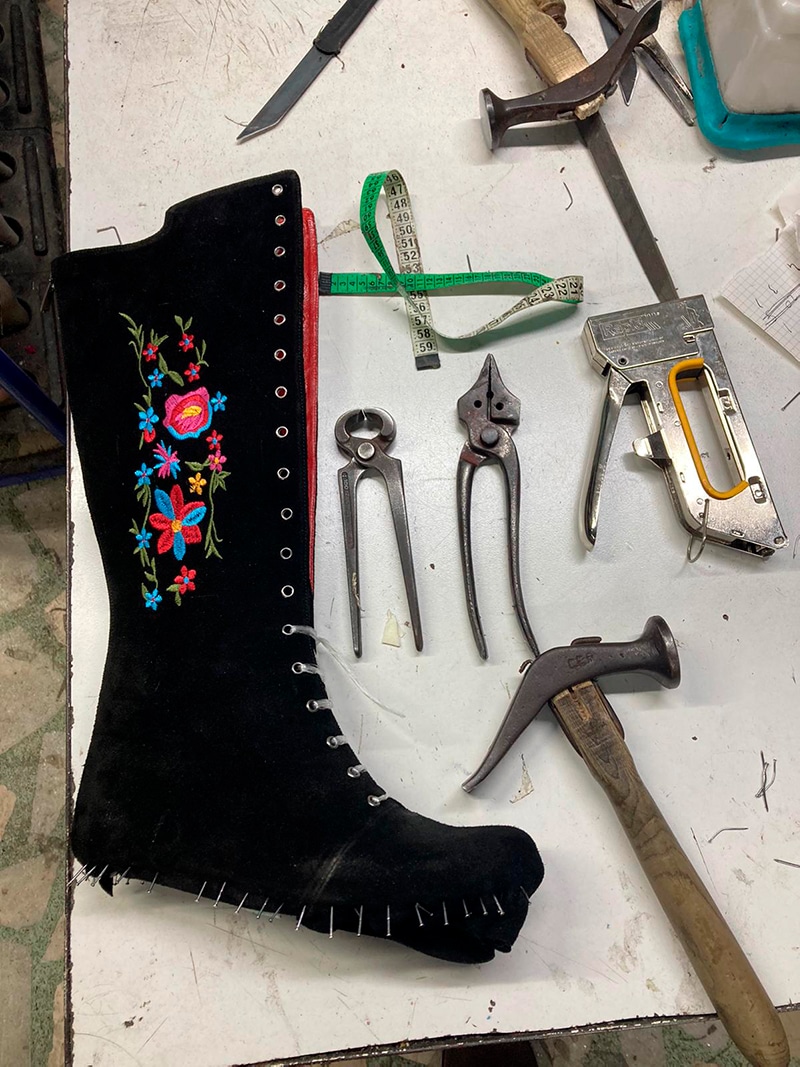 The Zühre boots have been designed with a careful focus on comfort and aesthetics with an eye-catching and striking colorful expression sure to be noticed. The bright embroideries are made with inspiration from the ancient traditions of Suzani textiles, both in the choice of colors and in design. Being inside lined with hot red colored goat skin the black suede boots appears both classic, yet daringly different in their expression and style.
The many creative and original details make these boots perfect for you who favors a unique style – not to been found everywhere, thus, underlining your very own personal individuality, no matter your choice of outfit. The long black boots are in a musketeer style, being a bit higher in the front, and will surely look absolutely amazing whether you choose to wear them with a pair of jeans for a working day, or with a short trendy dress for a social occasion.
The handmade boots – in original design by Malukka/ Mcat 2022 – are both soft and comfy to wear and are well suited for all seasons of the year.
If you are into the individual creative style – also take a look at our wonderful luxury boho dresses in exciting colorful designs – or maybe you will adore some of our exclusive organic home textiles made from soft sustainable cotton.
Further information
The black suede boots come in standard sizes, but it is also possible to order them custom made, adjusted to your personal measurements. Additionally, the gorgeous Zühre boot can also be ordered in leather and with high heels. If you should have any special wishes for colors, material, the lining – or the embroideries, do not hesitate to contact us on mail or on the phone – and we will do our best to accommodate your request. The long black suede boots have a 2,5 cm heel and a shaft height of 39 cm at the back and 42 cm in the front.
How to take care of your shoes
Use preferably a slightly wet cloth to remove dust and dirt, maybe added a bit of white vinegar.
Didn't find what you were looking for? Back to category
Related products